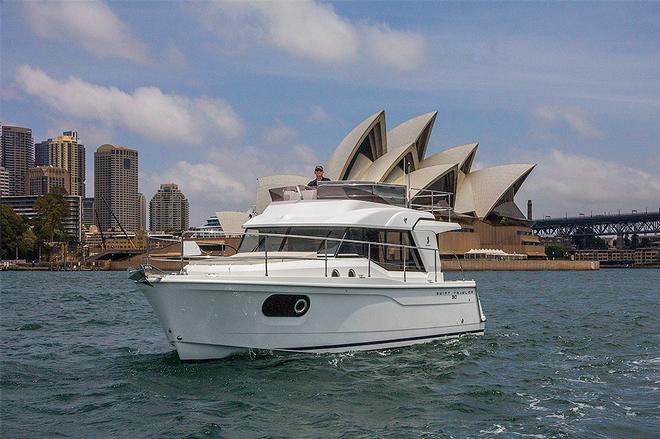 Trawler by name, but anything but in terms of design, aesthetics and overall performance John Curnow ©
Beneteau's Swift Trawler range disproves the long held view that a family cruiser had to be a sportsfisherman. This latter type of craft, which the Americans call a convertible, does many things well, and by and large their seaworthiness is as notable as it is commanding. Yet as a planing hull, they are somewhat compromised for stability at low speeds or at anchor, which is often what most families and entertainers really want to use their boat for.

So the rise of the rise of the traditional, semi-displacement trawler came about. By virtue of their overall design parameters, they can offer space that would require you to look for a sportsfisherman some 50% larger than the trawler you're interested in. That's a lot in both dollar and real terms.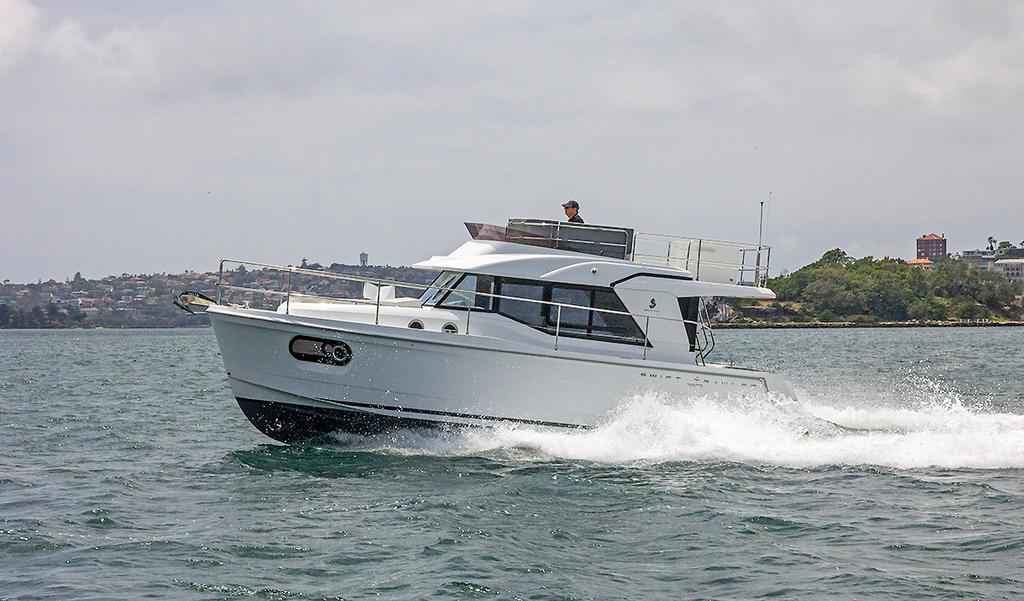 Gliding along with the Beneteau Swift Trawler 30 © John Curnow


Yes, the trawler might not have the same outright dash when required, but the ride and fuel economy benefits are significant. It is probably worth mentioning at this juncture that Pilot Cutters have a semi-displacement hull under their brightly coloured deckhouse, and this is for a reason! Now instead of 28-30 knots all out, you will do low 20s, and your cruising speeds will be lower as well, but your fuel consumption will be more like 33-50% at the top end.

Yet the real surprise is both immediately visible and then also inherent in the details with a $400,000 boat like this. Gone are the daggy lines of the ultra-traditional trawlers from the 70s. Here there are chrome accents, black windows, huge sunbeds, wide and open entertaining spaces, along with integrated swim platforms. Yes, outside they have moved on as much as they have departed from the atmospheric oil burners donated from tractors that powered them, to smooth, efficient, quiet and powerful common rail, turbocharged and intercooled Diesels.


So what of those details and the surprises they bring? Well the volume of a hull such as this means the for'ard Owner's Stateroom is huge, and it has an island bed, so no clambering in from the base. Tick. The head is full height and you do not have to do vertical twister to get in and out of it. At this point I can honestly say that ordering the version with separate wet room (shower) makes a lot of sense, unless you plan for small children to use the second cabin. It is much like a 2+2 in the car sense, where those rear seats are very occasional.

The main saloon has a totally workable galley with two fridges and a burner. With the optional genset you can have the microwave (instead of gas), but I think most will opt for a BBQ out aft. The genset can also run the optional aircon, should you go down that path. As is typical with this brand, what seems to be is actually part of the whole transformers thing. The settee has ingenious little pull out seats to make it a table for six, as well as converting into a full double. There are even curtains to go all the way around the saloon to make this the largest cabin on board at nighttime.


That very same table can go out aft and then the cockpit and swim platform become a massive alfresco area, where the transom doors not only open fully, but also have integrated fold down seats to add extra comfort. The flying bridge ladder also tucks up against the glass of the aft bulkhead to give access to all the room. Down the starboard side is the walk-around deck, with gunwale door amidships. This goes all the way to the foredeck and passes by the pilothouse door.

Ordinarily I like to use the upper helm station, but by and large, the lower one here has all the answers. The seat has adjustment and there is a fold out footrest that can also act as a platform for shorter people. Given all the glass (360 degrees), visibility is terrific and the bow never gets so high that you feel challenged. Of course the trim tabs can assist there if you are concerned.


Now the flying bridge is huge and eight souls will be more than comfortable at the helm station and around the lounge, which also has a table for the all-important drinks. Naturally, in Australia you are going to need a bimini, and they arrange for that locally, so that it meets your correct specification.

The air draft has been designed for some of Europe's rivers and so forth, which makes it really easy here, with the mast also coming down, if you choose that option. In the end, it means that whether you are a family getting away for the weekend or taking guests and clients out for a cruise, this is very much the craft to do it on.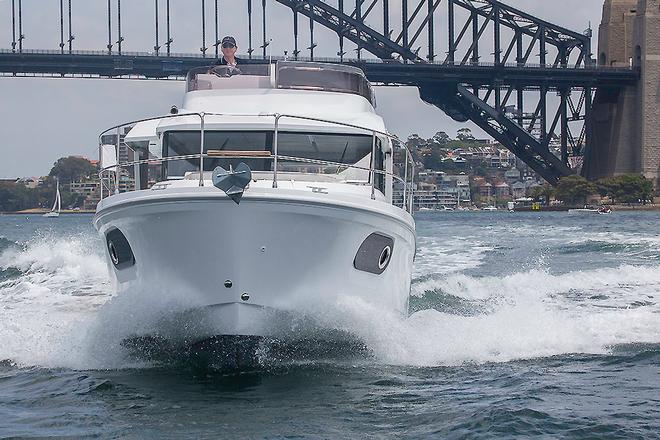 Coming right at you, and you can see the brilliant vision on offer with the Beneteau Swift Trawler 30. © John Curnow


Helming from up here is a delight and also very comfortable. You do get a real sense of being in command, especially as the station is for'ard, right up at the coaming, and not aft, as with a sportsfisherman. Spray is limited to the proverbial Evian mist in light chop or whilst crossing wake. At lower speeds it was virtually undetectable.

The other thing that may have been a real surprise to this scribe as how much I enjoyed doing 8.5 knots whilst helming below. At just under 2000RPM the turbo was not whistling Dixie yet and the relaxation the whole package offered has stayed with me to this day. You are also under 20l/h with an effective range of over 200nm from the 720l tank, and an appropriate reserve.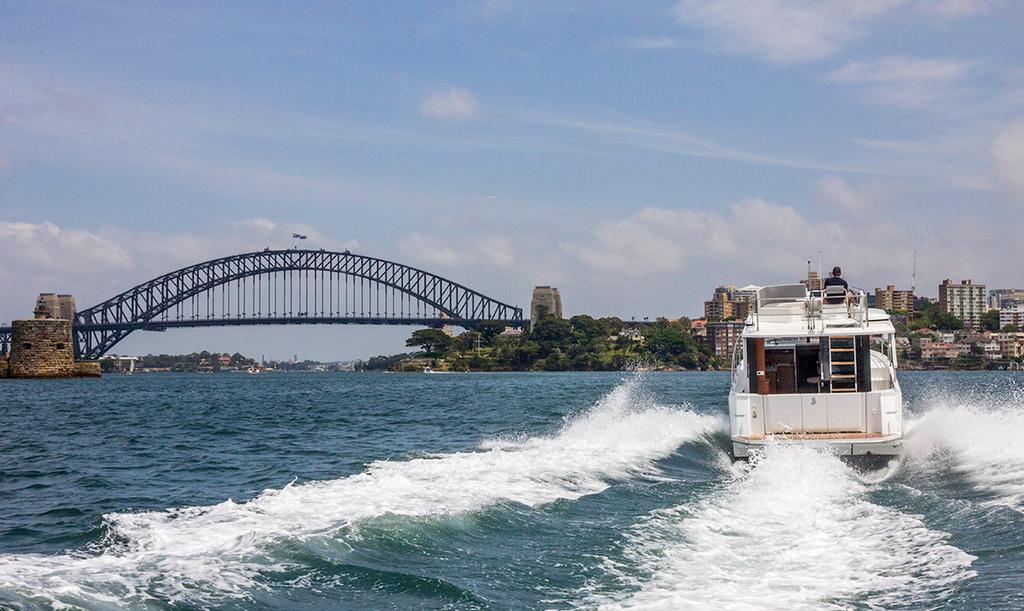 Taking off at just over 20 knots in the Beneteau Swift Trawler 30 © John Curnow


Stand on it, and the Swift Trawler 30 will run off smartly to 21 knots, with not only aplomb, but nary a bother. Do note that this is 3.8l/nm. I originally thought fast cruising would the 15-16 range, where it is around 60l/h at 3200RPM (3.7l/nm), but as you can see, you will not only get there faster, but have marginally better range anyway. However, keep it to seven knots and you'll be at 8l/h, which is like 1.15 litres per nautical mile and that is economical boating at its best, but overall it shows that the boat never gets super-thirsty.

In the end, it turns out that the effective range of the Volvo D6-370 powered Beneteau Swift Trawler 30 means you'll either be doing 8.5knots (displacement mode), or off at full noise. The latter comment is kind of ironic too, for the engine room (under main saloon floor) is super insulated, and that means you don't hear a lot at all, just a pleasant little turbo whistle above 2200RPM.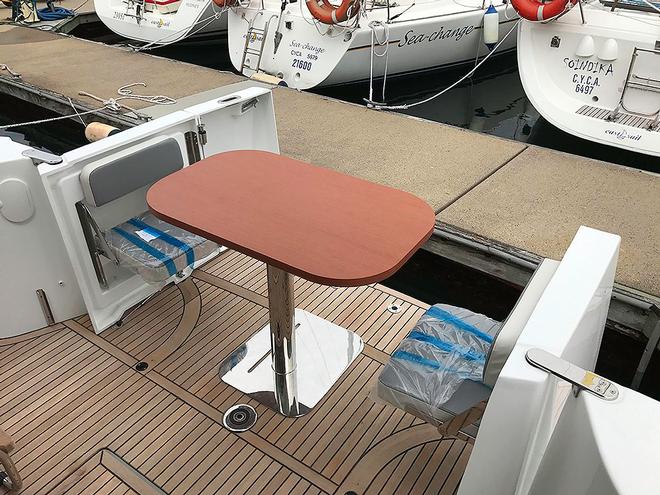 Taking outdoor dining to the next level. Our test boat was brand new with plastic on seats and so forth. but the adaptability of the craft is obvious. © John Curnow


As usual, there is many an option for you to investigate. The large swim platform is one, and also instrumentation packages and so forth for you to individualise your boat. Note though, it is essential to my mind to have the stern thruster, as well as the bow thruster. This is a single screw boat and hence the propeller is large and has a lot of bite. All that means this craft walks to port going astern, as inexorably as a soldier marches a course. No amount of starboard helm will mitigate this. Given how tight pens are, with space a premium everywhere, do yourself a favour and look like a genius docking your new Swift Trawler, just as if you were a seasoned old salt.

The team at Flagstaff Marine will be delighted to show you the Beneteau Swift Trawler 30, or any of the other sail and powerboats from the powerhouse French brand. Call 02 9327 2088, or see http://vicsail.sydney/our-brands/beneteau-power-boats, and make a time to see for yourself at either Rushcutters Bay or Pittwater.
Two icons! Effortless, timeless and good looking. © John Curnow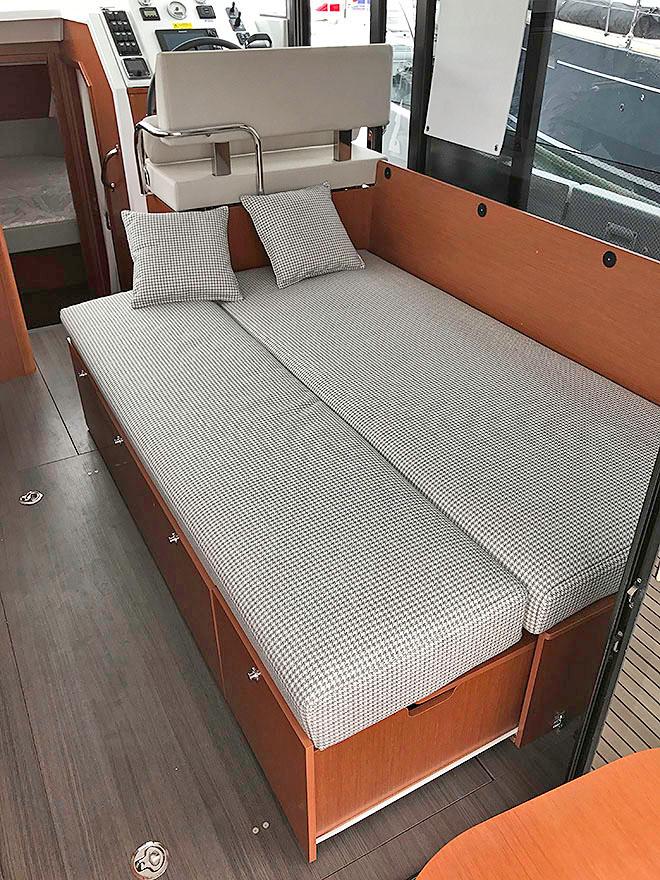 The settee forms a massive bed and the two outer draws also have seats incorporated to make a full 'C' setting around the table. © John Curnow