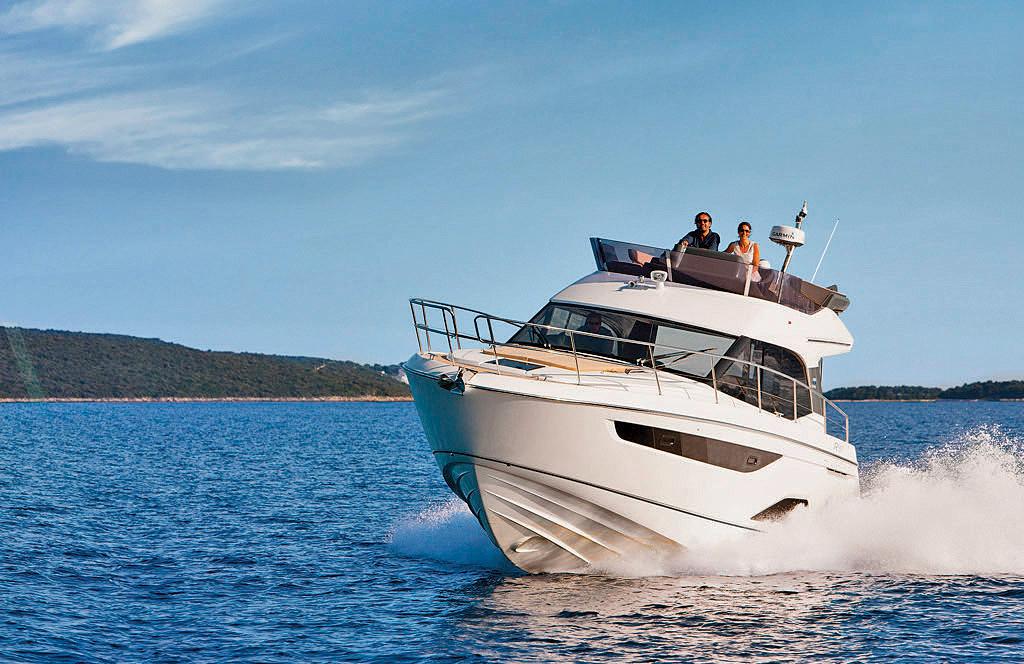 Bavaria R40 is certainly about pace, with grace and style Bavaria Yachts Australia
http://www.bavariasail.com.au
The new Bavaria R40 is very stylish and smart. The Coupé and Fly versions mark a completely new range from the German manufacturer. Soon we will be able to see one in person, right here in Australia. Local importer, Ensign Ship Brokers, secured the earliest possible hull out of the in-demand production for this lightning quick speedster.


One of Bavaria's new product managers is, Robert Chaffer, who was previously with Princess for 25 years. "Yes, together with J&J Design, Robert is the man behind the new R40. With the R40, you have a 40-footer that has a both a full beam aft Owner's Stateroom and then also a VIP's cabin in the bow. Both the coupé and flying bridge versions have en suite bathroom and shower for both cabins", said Bavaria Yachtbau's Business Development Manager, Luca Muffle.

Also pretty new for Bavaria is that both hull and deck of both the R-Line are vacuum bagged, foam core and resin infused. In the case of the R40 it means they are just under or just over 9.5 metric tonnes, depending on model and choice of stern drives. Now that very lack of mass also means they have the dash to match their lines.

Meffle commented, "It's probably one of the fastest 40-footers around, I would think, by the spec sheet. And it runs with fairly low horsepower, with twin 330Hp as standard. In testing we had eight people and full tanks, yet still got it out to 34 knots. The engine upgrade (2x370Hp) performed even better under the same payload, topping out at a very healthy 38 knots!"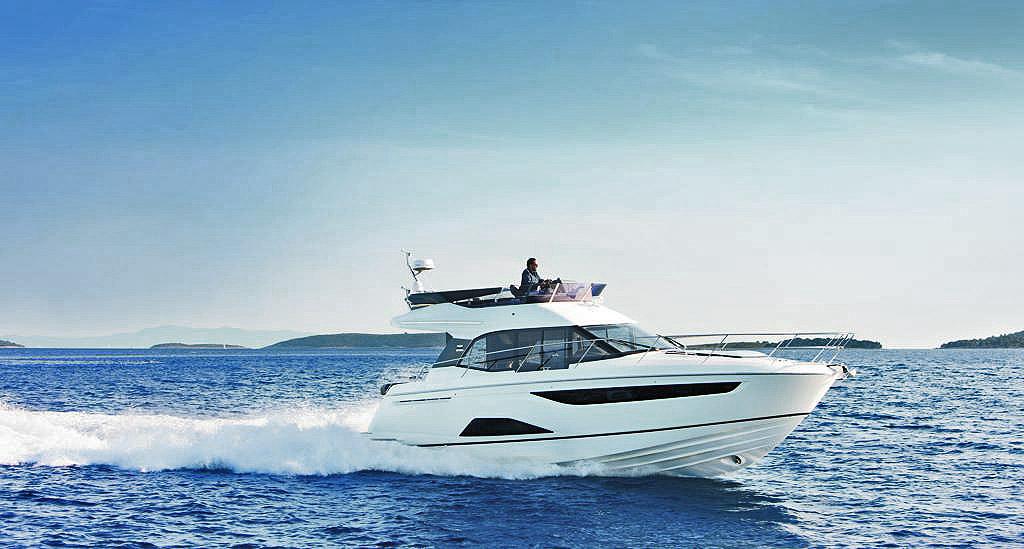 Bavaria's R40 is capable of just under 40 knots © Bavaria Yachts Australia http://www.bavariasail.com.au


So, seriously the R40 is going to do well in this country because everybody likes to go hard and cover the distance quickly. Given the R40 needs lower than normal horsepower to move her along, say 340Hp less, you would think that her consumption per nautical mile will be better than the opposition too, so I cannot wait to assess that live. With just 900 litres available, it will be an interesting range calculation. Her aggressive lines just add to it all, and I can see this boat doing very well from Pittwater to the Gold Coast and over in WA, as well.

Yet it is not just about performance, in hard numerical terms. The R-Line also excels with elegance and craftsmanship exuding from the myriad of details on board. You can select your combinations of finishes to make the spaciousness in the cabins, heads and main saloon really reflect your style. The brief was for an eye-catcher, yet retain class and sophistication, and above all, make sure the R40 Coupé and Fly exude luxury and sportiness.


Full beam cabins are the 'must have' ticket at the moment, no matter whether in power or sail, so this too is just going to add to the R40's appeal. Tony Ross from Ensign commented, "You just don't get it anywhere else in this size. Remember, this is just 40 feet. You couldn't even imagine it before, but when you step on board you do get stunned. You walk through a saloon this big and it has no detrimental effect on the for'ard cabin. In fact, when all of our staff went over to view the boat, most who hadn't read about it thought the for'ard stateroom was the main one. It was a big shock for them to find out the real cabin was in the centre of the boat!"
Modern, fresh and relaxing - VIP Stateroom in the Bavaria R40 © Bavaria Yachts Australia http://www.bavariasail.com.au


The al fresco aspect of multihulls has also made its way into the design, with Meffle adding, "You have an aft barbeque and wet bar, which is I think a really nice feature for the Australian market. The cockpit seating and the saloon seating can almost be connected. You can unfold the tables to have the one large one, you could seat up to 12-15 people from the inner helm out to the cockpit on the one level. When you slide all doors, the patio doors below the stairs, you have one huge cockpit or one huge saloon, whichever way you choose to call it."

"We have concentrated on providing more social areas. You have one on the flying bridge, one big one with saloon and cockpit and then another one on the bow. So the more people you have, the less likely you are to have them all in the one area at the one time."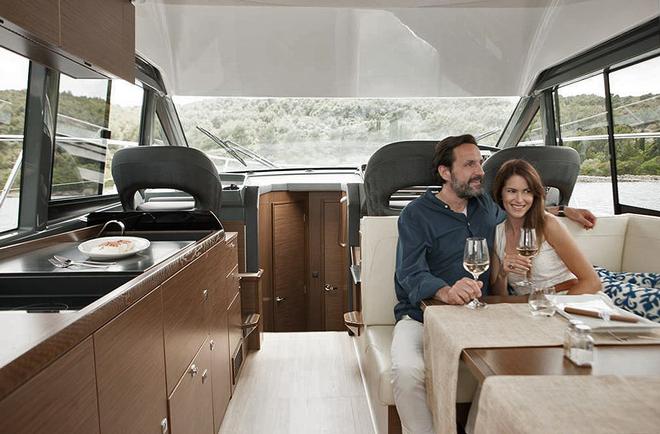 Main Saloon of the R40 by Bavaria © Bavaria Yachts Australia http://www.bavariasail.com.au


It should not be all that long before an R40 is available in Australia, to which Ross says, "Certainly that's the plan. We've put our name down on a build slot, so we're already looking for a client that wants to be the first! Anyone who's looking at a Princess, Azimut or Sunseeker will have to put it on the list of boats to look at now." Interested parties should probably see that as code for 'well-motivated' and make contact sooner, rather than later.

Ross is not the only one who sees both the R-Line doing well. Advance orders for Europe are better than strong, like the boats Bavaria build. We highlighted it before, but the uniformity of the vac-bagged, resin-infused craft means that Bavaria's impressive quality will be that much better again.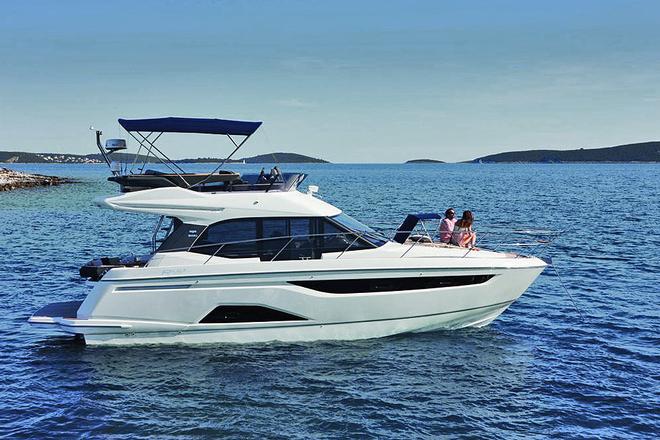 The R40 from Bavaria demonstrating that zero knots is also great fun © Bavaria Yachts Australia http://www.bavariasail.com.au


As if letting the proverbial cat out of the bag, Meffle explains the Bavaria's approach. "The owner's of business have been clear about our expansion and growth. There must be a high quality product as the end result. So, when you order a Bavaria, you know you're going to get a boat that's just like the last one that you saw. They're all going to be identical in performance characteristics, fit and finish and so on."

This is one special craft and sure to make many think about not only what they are buying, but also just how big they really want or need when you get so much space in a boat that is just under 41 feet LOA. To find the right Bavaria R40 for you please call 1300 609 900, or go to http://bavariasail.com.au/motor-boats/ for all your product information.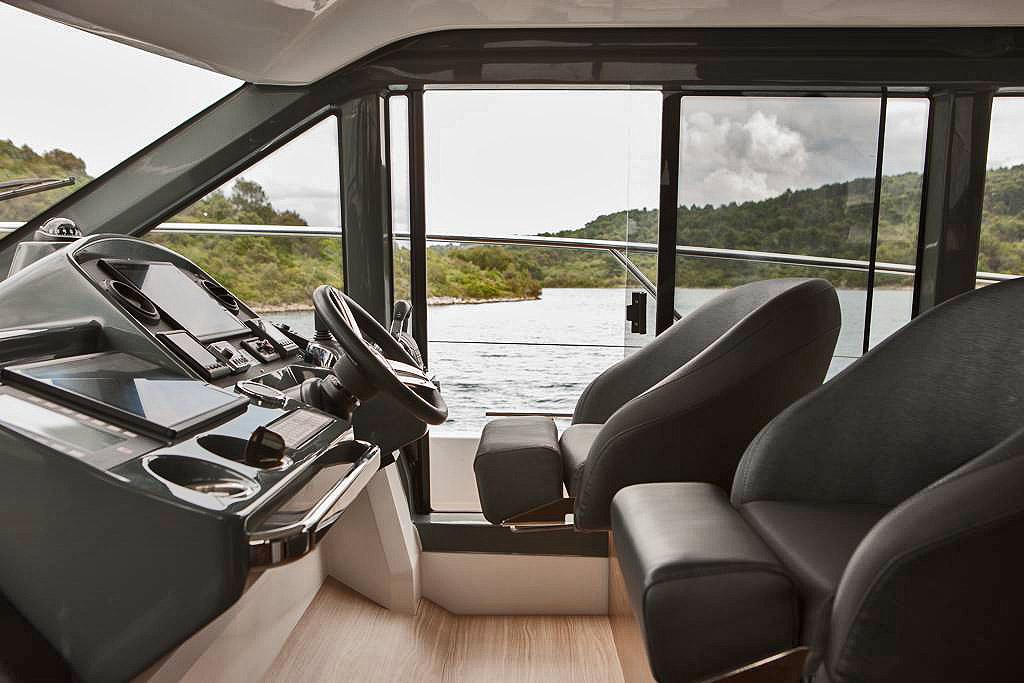 Lower helm station of Bavaria's R40 reflects the very modern flavour of the entire vessel. © Bavaria Yachts Australia http://www.bavariasail.com.au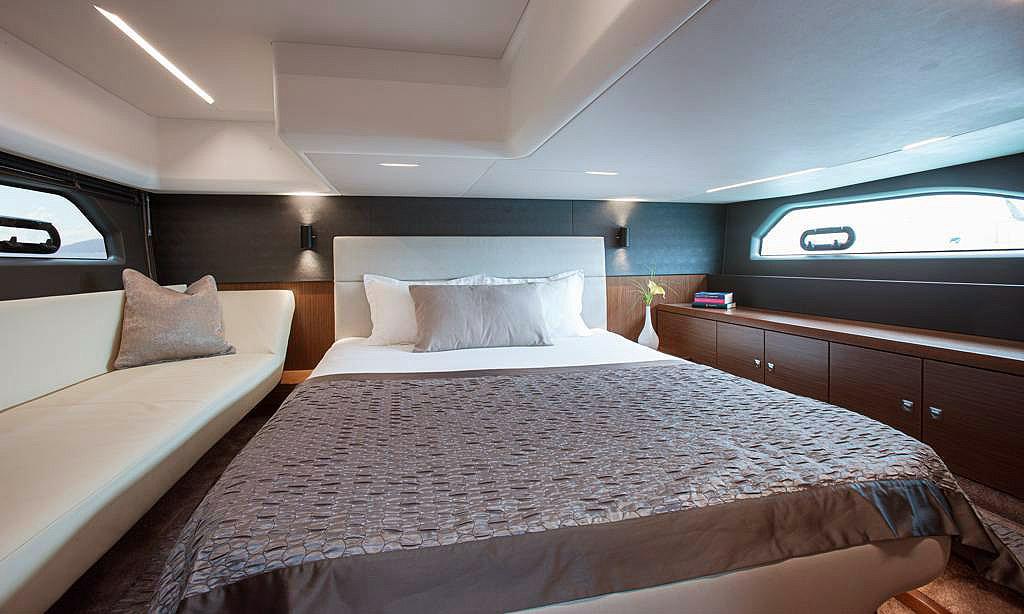 The full beam Owner's Stateroom of Bavaria's R40 © Bavaria Yachts Australia http://www.bavariasail.com.au