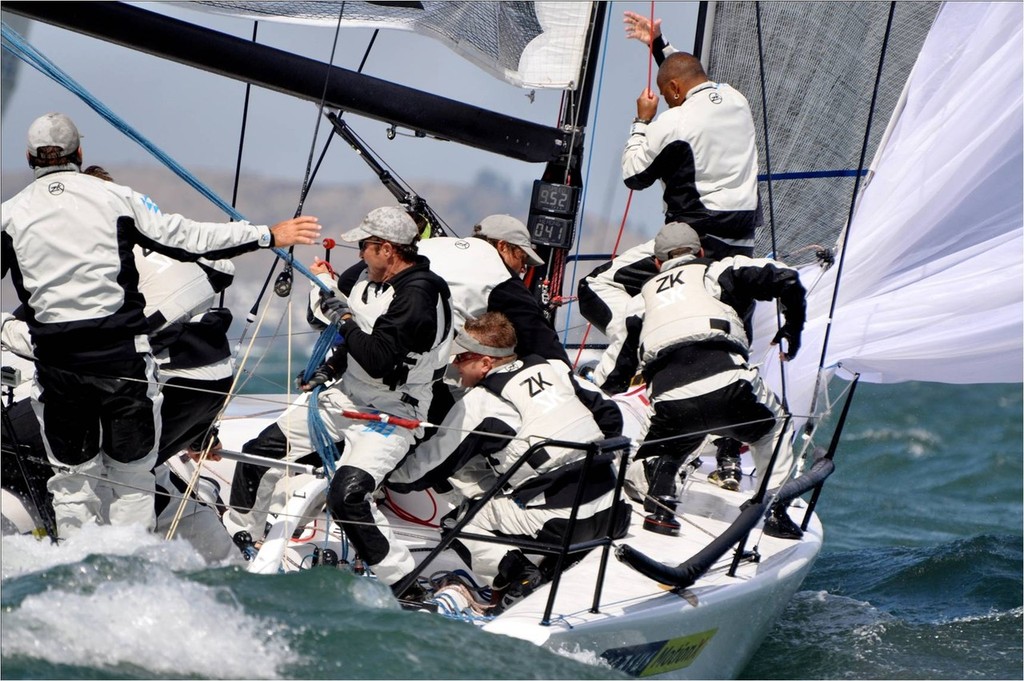 Isotak in action - The Brand is Zhik! Zhik
http://www.zhik.com
So we've just had what amounts to the proverbial ad break with our story on how we, the world, got to Zhik (pronounced Z i i K, you might remember). In this, Part Two of The Brand is Zhik, we'll have a look at what's emerging right now and then what is to next install for us all.

Earlier on, we talked about how keelboat sailors can now enjoy some Zhik-ness and as you now know, this is a company on a mission. 'We are diversifying and growing. Right now we are moving into the yachting world', said Brian Connolly, Zhik's CEO.

'Sailors are an intelligent bunch. You can't trick them. Just because Zhik was producing fabulous dinghy wear doesn't mean you could assume Zhik yachting gear would be as brilliant. It takes time to build authenticity into each layer in the market, which is what we are up to now with keelboats. We like to work on new products and now we are involved in the whole sport, whether it is junior dinghy sailors, right through to the America's Cup level.'

© .

Zhik Isotak is the brand's flagship offshore wet weather gear. Its creation is typically Zhik, in that they looked at it from first principles, but Zhik also completed a full review of the competing products. 'We put a fair bit of energy in to looking at the actual materials being used. There is a lot of material around quoting levels of breathability and waterproofness.'

'When we looked at that it was a little annoying, because these numbers were often confused and used in different ways depending on whether it was just the membrane itself, where it was stitched and how the seam was prepared.'

'We are very proud of choosing the right material and in addition to that, making sure that the seams are bound together correctly, double glued and taped properly. These items are expensive, because they are hard to make, but they have to operate in a very harsh environment.'

It would seem there are a lot of custom fabrics deployed in the Zhik range already and this is set to increase. 'Our business now has quite a significant agenda around material research. Whilst we are a sailing company that produces sailing wear, we are quite excited by the R&D programs that we have started.'

'We are collaborating with some leading researchers and have got some fantastic science behind a lot of what we do. New Zhik products coming onto the market will increasingly have more proprietary and unique compositions. It's quite an exciting field for us - we like material science at Zhik.' By any measure, that has to be good for sailors.

You can tell that Zhik are very proud of what they do, so which products stand out in Brian's mind? 'That's hard because we have so many. It really comes down to the customers you are serving. We put so much energy into every product to make it the best out there. It is almost too unfair to isolate one from the other, as we are very proud of many of our products.'


'As a Laser sailor, I would have to say that I have a soft spot for the Power Pads, especially when combined with the micro fleece wetsuit. I find the micro fleece wetsuits extremely forgiving in both cold and hot weather. All you need to do is combine it nicely with the right top depending on how cold the day is. Hiking pants used to be these clunky things with fibreglass rods sewn in.'

We thought that hikers could be designed more like gear in other impact sports, where you put your pads on and then you put your suit on over the top. You don't build your pads into your suit because it becomes very clumsy and hard to control. With Power Pads, you have pad in a sleeve and you stick it on your thigh in the right place and made sure it was tight, and didn't wobble around, which gave you lots of freedom.'

'I remember the first time I wore hiking pants on a Laser and I thought, Wow! Thank God for that. Here was something more comfortable. I also remember the first time I wore Power Pads and it was like the same revelation all over again, because the freedom, flexibility and ease of movement, meant you didn't feel like you were wearing big, clunky old hikers anymore. Zhik design department came up with this innovation because they weren't tainted with traditional thinking, and am really very proud of that', said Brian.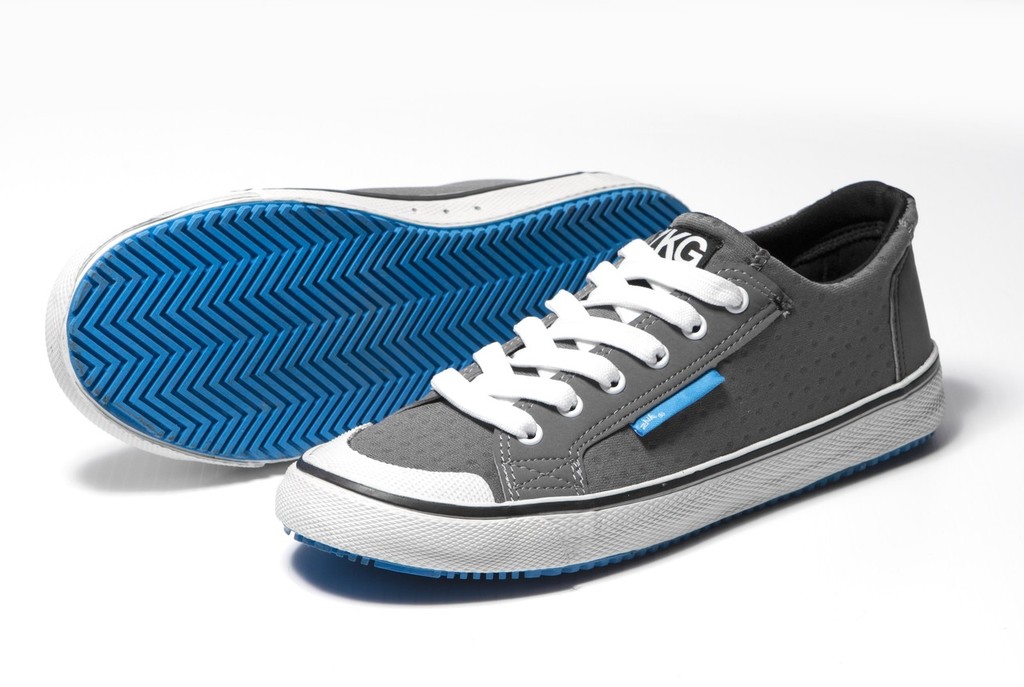 ZKG's © Zhik http://www.zhik.com

'A more recent favourite of mine would have to be the ZKG shoe. This is a classic Zhik product, inspired directly from our Team Riders asking the design department for a deck shoe, which we did not have inside our range.'

'We asked what they were wearing and they all replied, 'Dunlop Volleys'. It is a tennis shoe designed in 1966 or something, but unanimously they all said it grips better. They wear out after a while, but they are cheap and we just throw them away.'

'We set ourselves the task and created a new amphibious shoe, with aof perforated neoprene upper, that if you looked at it on the shelf it just looks like cool, street wear, but the sole on our shoe is amazing. This shoe flushes the water through it really easily. It is very grippy, light and flexible. and the thinner soles give you more of a bare foot dexterity. It is also very comfortable. I recently went through America and I wore mine because they were so easy to slip on and off through all those security checks that you get at the airports.'

'They are extremely comfortable to leave on your feet when you have to have your shoes on for an extended period of time, such as on aircraft, etc. They're almost like Clayton's shoes, you know 'the shoes you wear when you don't have to wear shoes', but they still provide you with all the look, feel, and grip and function that you need. We are taking these to the broader marine market, as we feel they'll be greatly appreciated'. Plimsolls and Topsiders did it, so why not I say?

Now with that spectre of expansion opened up so nicely, you begin to wonder what is next for this most ambitious of companies. 'We are still thinking of ourselves (, even though we are coming up to ten), as a young start-up high tech company. We think of nothing less than to eventually become number one.'

'That's all healthy ambition. If we keep doing what we are doing, we could get there. If you make good products and you are doing a good job, then you are going to create a bit of a stir. That's all healthy for the market. We actually want the competition, as we thrive on it. You become boring if you are dominant in any fleet.'

'We have got some great new things coming that will inspire a whole new class of product we think. That's exciting because you are defining it. We are pioneering the whole concept from the beginning', which of course sounds very Sony or Apple to me.

Brian finished by saying, 'We will see our material science explore new regions of apparel physics that will hopefully find their way into a far more diverse field, beyond just the marine and sailing world.' With that said, when you need marine apparel, look for the brand that has got so many personalities behind, with and in it. You cannot go