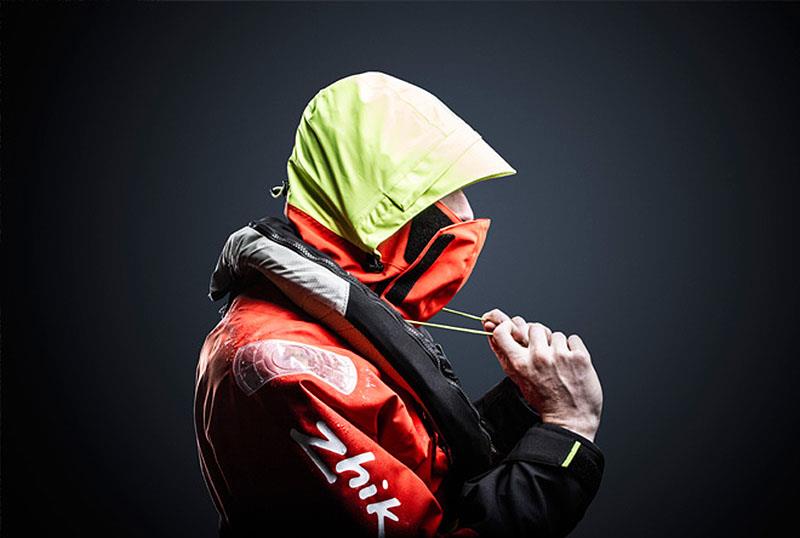 Devil is in the detail - Isotak ocean from Zhik © Zhik
There is probably every reason that ocean rhymes with notion. Zhik's tagline has been officially marketed as Made For Water, and this is precisely what the company has done for the last eight years before the succinct and apt strapline came from out of R&D and into mainstream visibility.
It may not be as snappy as the Zorro-esque 'Z' scratching, but as the quintessential 'question, then solution' brand broadens from dinghies and ocean racing, to all manner of paddlers, boarders and other water users, it will herald their arrival. No doubt garnering as many fans and Ambassadors along the way, just as sailing's Olympians and gigastars have done so. Nothing works better than saying what you do… simply, swiftly and memorably.

Zhik's founder, Brian Conolly, commented of the current landscape by saying, "Zhik is making excellent headway into the yachting market now. It takes time to get these products right and then go on to refine them even further. We are proud of what we have achieved. Yachting is a big driver for our growth at present, while we continue to build our dominance in the Dinghy market."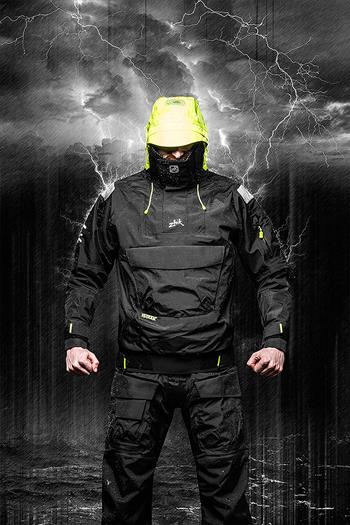 The full Isotak 2 range from Zhik © Zhik


Well with that lovely segue from the man himself; let's indeed have a look at their supremely crafted and yet still Zhik-like cool big boat gear. These consist of the Kiama, Aroshell, Isotak2 and then the zenith, Ocean line. "Ultimately, it was all about not having sailors out there feeling like they were moving around in cardboard suits. We wanted it to be lighter, stronger, more waterproof durable and highly breathable."

In typical Zhik fashion, they broke down the equation in order to achieve their paradigm. There was no fait accompli. This included building their own machine to test the fabrics for scuff, tear and waterproofness, before selecting the right one. Yet the full picture still asked for a better way to have your hood operate, especially with a harness on and then hydrophobic liners to draw water away around your neck and in your pockets.
Still not completed, the task then went on to the seams and most importantly, the tapes that covered them. You may find it crazy, but the tape manufacturer had never seen a client at their factory. So they were even further inspired to deliver the very best. It is now known by the QuLock name and together with Hydrobase and the very fabric itself, which is four-times more waterproof durable than the industry standard, Zhik now had their masterpiece and off they went to test it in the Volvo and many other ocean classics.

"We were extremely demanding on everything. It is an insane amount of work to do brilliant stuff for yachties, but we absolutely needed to do it the Zhik way. We applied all of our innovative culture with the yachting crews, just as we did with the dinghy sailors. Please look at the video here to see what we mean."

"Before we began we stipulated that we were not just going to make another range to sit in the market place. The very first thing was a durable fabric that had high breathability and water repulsion. There are standards for this, and when the fabric is new there is no problem, but when wear comes into it, the game certainly changes. We proffered the question, what about the whole lap of the Volvo and not replace all the gear each stop?

"So we got lots of fabrics in, built our machine, made these soft, yet hard balls that are like knees and then rolled them in the machine and threw other things in besides water, just for good measure. Honestly, we took it all out, re-measured and were completely flabbergasted at the differences. It is huge."


The result was their own new membrane that you find in both Isotak2 and the Ocean gear. It is not only better than its most famous peers, it stays that way long after you've cut the labels off! In addition to the seam tape, there are also all the differences in pressure, glue temperature and sealing time to consider. Yet you still cannot go to market or there are the millions of samples to be made with collars this way and that, hoods attached here and there, operate with just the one hand, and then the high wicking lining that reduces chafe and also does not freeze you. Now you're ready!

"All of this gear has got a lot of attention. We are excited about it all and truly delighted that Isotak2 is flying out the door. It is so much lighter than regular ocean gear, and because the membrane is so durable, we just don't need it to be thick. People who have not tried it simply won't believe it. There is a difference - just check it out. We are having a ball", said a proud Conolly.

"We have also just released the new seaboot and everyone has gone for it. We started with our high grip shoe, which is very flexible and 100% waterproof and now have the 700 series boot, with the 800 being the Volvo Ocean Race version."
Coming back to the brand itself once more Conolly is more than aware that it has been a huge seven or eight years and equally feels like they have only just begun. "We do feel like we've come of age. We got it right by starting with the notion of first principles and make then better gear.

"So yes, making innovative products is usually hard, and we have been very focused on that, so you could now say Zhik is working on it's own sales story. We feel that we are on the cusp of greatness. We still want to be the cool and funky brand, so definitely not old school'.
"Our great Ambassadors are important to us, as is our youth-like culture. I think we brought a refreshing change to the yachting community. We are not shy of throwing in our style, but we are certainly not a surf wear culture, either. Made for water means we are the performance apparel brand for water. Zhik is about sport, performance and water and there is a diverse range of people that love what we do."

"Later this year we'll have a new range of wetsuits for kids. Youth are terrific and understand exactly why stuff is good. They are easier to educate than their adult contemporaries", said Conolly, and in doing so opened up the viewing glass. So before we go, we'll take a look at the new Avlare material that is set to change the way we see sports gear, and it all happens from the end of this month.
Conolly is carefully spruiking Avlare and at the same time even explaining the very Aussie term to a lot of international buyers. They have been working on Avlare for some time and come May 30, the manufacturing plant in Portugal will be unleashing it on the world. Avlare was another typically Zhik problem first, then solution type innovation.

"So just what was the problem then? You get wet when you wear Spandex and Lycra. No one actually thought of it as a problem. Wind chill was considered par for the course. Hydrophobic technology was available, but what we did not know was that you could make it work in form fitting fabrics with high stretch. This proprietary fabric is the result and the best thing is that it hangs onto its water repellency for ages."


Zhik have been testing Avlare for some time with sailors, Olympians and top kayakers. It has a huge appeal for the impending Rio Olympics as it is super lightweight, and won't overheat, and yet cut windchill. It's described as strangely dynamic and weirdly protecting for both hot and cold, breathes obsessively, has ample stretch and is a quarter of the weight of wet spandex. The athletes say it is a very different experience and it has become their go-to top. Also, to reactivate it should you need to, apparently you just iron it. Simple.

Conolly said in closing as he boarded a jet to go do some more of that spruiking, "It is nothing like anything you have ever worn before. It cuts windchill like a shell, yet is porous, so it breathes like it should. We'll be offering both form fitting and loose fitting garments for things like Stand Up Paddleboarding and surfing. We think Avlare will be what everyone wears in the future for Lycra was never invented to swim in!"

So if you have the notion to go and get yourself some new gear for sailing, paddling, surfing or whatever waterborne pastime you're into, start the process at www.zhik.com.au, because it really does look like the place you will finish at, no matter what!